Be Ready
"We have to evacuate the entire neighborhood", said the firefighter in full gear. "Take everything you need for the next two or three days."
"You have five minutes."
That actually happened to our family, moments after a DC3 crashed four houses away.
What if that firefighter was knocking on your door?
If disaster struck, right now, right where you're sitting, would you and your family be ready?
You know that feeling you just got in the pit of your stomach? That's the reason we created the Safe Family Action Plan.
Not only does our newest venture, Stuf Productions ask the question, it gives you the answer along with and all the tools you, your family and your college students need to be safe and be ready in nearly any situation.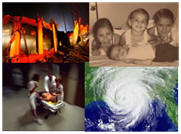 With our downloadable Action Plans at just $19.95, we give families all over the world - families just like yours - everything you need to get prepared . In just one afternoon, you'll be able to "Grab your Info and Go," for anything from a basic medical emergency to a full scale natural disaster.
To Purchase or Learn More about the Safe Family Action Plan, click here.
To Purchase or Learn More about the Safe Student Action Plan, click here.
To Download Free Safe Family and Safe College Student Tips Guides, click here.
Free Emergency Tips Guides, Videos & Articles
Be sure to grab your free downloads for information on four vital subjects. They're just a taste of what you'll get in the full Action Plans or Programs, but packed with information on keeping you, your family, (and for those health care workers out there), patients safe.
Watch For Our New Action Plan SERIOUSLY ORGANIZED, coming soon! To learn more about it, sign up for our newsletter below.
Watch Leeza Gibbons speak on behalf of the NOK Laws
Videos on Hurricane, Tornado & Emergency Planning
Articles on Family, Student and Patient Safety